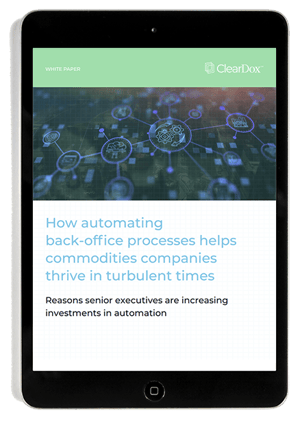 White paper: How automating back-office processes helps commodities companies thrive in turbulent times
Reasons senior executives are increasing investments in automation
Thriving amidst supply chain disruptions, climate change and other adverse events requires the ability to act quickly and make decisions with confidence. Using slow and error-prone manual processes to manage critical back-office functions makes it difficult — if not impossible — to do either.
Read this white paper to learn:
Why automation must be a top priority for all commodities companies.
About the dangers of manually reconciling trade confirmations, managing inventory and approving invoices.
How automation solutions designed for commodities companies improve profitability, reduce costs and support optimal decision making.
Fill out the form to download the white paper now.